VoC Classify takes a verbatim (e.g. open feedback comment) as input and automatically categorizes this into one of possible pre-defined categories. So, in effect, VoC Classify turns verbatim into measurable, business-relevant items.
The VoC Classify tool is built on Artificial Intelligence algorithms that learn to recognize relevant contexts in text and to associate them with right categories. In order for the tool to learn new categories, the user needs to provide some training examples.
Why is categorization important?
Makes verbatim "measurable"
No more manual classification of verbatim
Ability to manage big data and large volumes of verbatim
Automatically extract actionable information out of customer feedback
Real time monitoring of customer experience programs and results of actions on customer base
Quick overview of the results of the actions on the customer base
What is a VoC Category?
Label for a certain type of text, identifying the topic of the verbatim
For example, "Waiting-time", "Friendliness", "Competence" are typical categories in call center setup
Categories are user-defined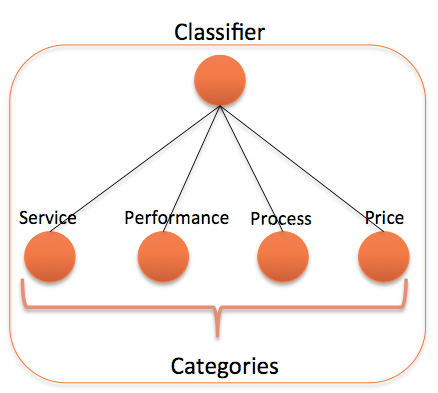 A classifier needs to have at least two categories in order to be uploaded on VoC Classify.
Typically, classifiers can be: 
General business topic classifiers: useful to understand what the customers are talking about. Categories usually give a first idea of customer feedback: Offer, Content, Customer care, General comments.
Special purpose single topic classifiers: for example, customer mentioning a churn related issue. This kind of classification helps to identify customers with special issues and to trigger actions for them.
Sentiment detection classifiers: useful to understand customer's sentiment. Typically, sentiment classification has two (positive, negative) or three (positive, negative, neutral) categories.
In some cases, a single classifier will not do the job. Instead, you want to define a hierarchy of classifiers. This can be done in VoC Classify with a hierarchical classifier. Below is an example of a two level classifier.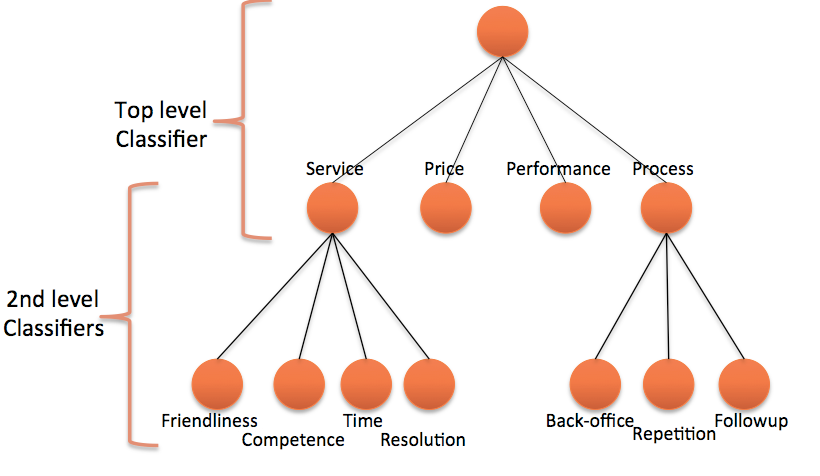 With VoC Classify it is possible to create as many first/second level classifiers as needed and it is possible to classify each verbatim with several classifiers.
There are no specific restrictions on the number of categories: it usually depends on the number of cases/verbatim one has for every category. However, in general, the more categories you have the more difficult it is to automatically detect the categories. Therefore, it requires more training cases to achieve high accuracy with many categories.