The uploads list page shows you all completed and running imports.
It is available at the VoC Store -> Uploads menu.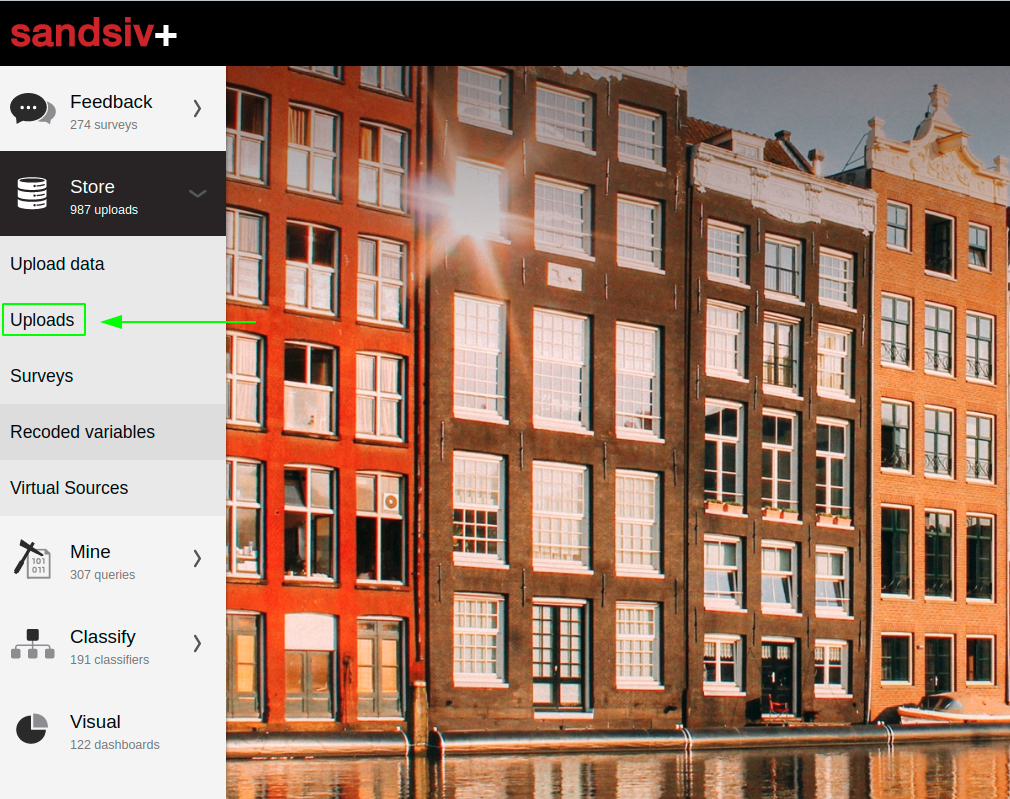 The following information is available:
| | |
| --- | --- |
| Column | Description |
| Title | You can name your upload so that you'll remember what kind of data was uploaded |
| Original name | Original file name which has been uploaded and imported |
| Uploaded | Time and date when the file has been imported |
| Updated | Date of last interaction (upload/append) |
| Progress | Progress bar shows the progress of import. Full green progress bar equals completed import. This column also shows the total count of rows processed and progress percentage. |
| Role | On icon click it shows who's the owner of upload and with whom it is shared |
| Actions | The list of available actions that can be applied against the upload. |
Currently, the following actions for the uploads are available:
Action
Icon
Description
Info
­­

Gives info of where the Upload source is used, i.e. Dashboards, Virtual Sources

Share

A button that allows to Share the upload list with other people. You can select the level of the access to grant - viewer, editor, full.

Download source
­

Exports all data related to the chosen upload: metadata and other columns, classification results, and QueryLabels.

Note: the resulting file will be available for downloading in the VoC Hub notification area (bell icon) and will be compliant with the following parameters:

File format: CSV;
Delimiter: comma (,);
Text delimiter: quotes ("").

Cancel
­

This action cancels the upload.

Note: the upload can only be canceled if it hasn't been finished yet.

Download Errors
In case the upload was imported to VoC Store with errors, you can download the error log file
Recode Variables
You can recode variables for the chosen upload by clicking on this icon.
More information on recoding is available here.
Source details
­

Here you can see the source columns structure for the upload.

Append File
­
With this action you are able to append an additional file to the chosen upload, in case your initial file was bigger than recommended size or you have additional data to upload.
Re-Lemmatization

Launch re-lemmatization.

Truncate Upload
­

In the Truncate Upload pop-up you may select a Date column (Questionnarie end time, Record change time, Survey Date and Updated) and the time frame from-to in order to clear all data between selected date ranges.

Delete Upload
­
Here you can delete the upload.

Note: the option to delete an upload is available during 7 days from the date of the initial upload.