Overview
With Statistics you can get a view into the overall performance of the Survey and it is the place to go to check the response rate of your Surveys.
To navigate to Statistics view of the Survey you can either click the Statistics button which will navigate you straight to the corresponding tab or you can navigate to the tab from the­Survey edit mode.

There are two different Statistics views available. Click the blue Statistics button to get the menu and choose: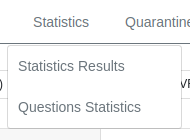 You can also select different channels to view individual statistics for a channel.
Example
Here's an example view of Statistics Results page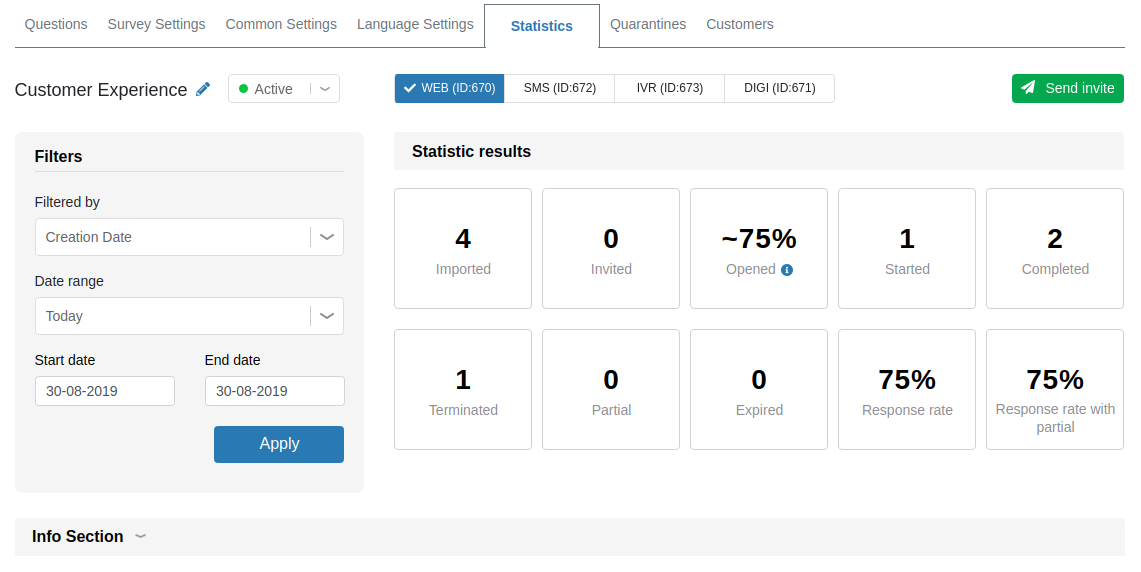 Detailed information about how states are counted in Statistic Results:
State
Description
Imported

Total number of customer records successfully imported into the system

Invited

Total number of questionnaires which are currently in invited state

Opened

Total number of invites which we are sure were opened. Please note that this number might be lower than actual number of opened invites due to default security settings of email clients.

This number is calculated by checking how many customers clicked the link in their invite. Also, a tracking pixel data is taken into account if one has been used in the Survey email invite. Please, see this article to find more information about the tracking pixel. For example, by using the following custom variable

{{questionnaire.img_email_track}} you may track whether the email was opened or not.

Started

Total number of customers which currently have started a survey. Depending on the channel, a survey can be started differently:

WEB: Clicking the Survey link in the email or SMS message

SMS: Responding to SMS per keyword. If no Survey has no keyword then the customer is automatically started during invitation phase.

IVR: Responding to first query in an IVR call

Please note: not all started Surveys contain a response

Completed

Total number of questionnaires which have been completed if a customer answered all questions and received the final standard Landing Page - Survey completed (Thank you page) message or they landed to the Finish Survey question or triggered the End survey question flow condition.

Terminated

Total number of questionnaires which have been completed if a customer answered questions and the following question is Terminator type of question or if they triggered the Terminate Survey Question flow condition.

Partial

Total number of surveys that were Started at some point in time but then expired before the user completed the survey. In other words the customer starts answering the survey questions but then drops out before seeing the Thank You page

Expired

Total number of questionnaires that have expired and cannot be completed by the customer.  This only displays a value if the expiration period of a survey is set in Advanced Settings -> Survey expiration (in days)

Please note that if the customer clicks on a Survey link that has been expired, they will receive the message as configured in Language Settings -> Landing page - Survey is expired

Response rate

Response rate is calculated with the following formulas:
WEB. (Completed + Terminated) / Imported * 100
IVR. Completed/ Imported * 100
DIGI. Completed / Triggered * 100
SMS. (Completed + Terminated) / Imported * 100

Response rate with partial

Response rate with partial calculated with the following formulas:
WEB. (Completed + Terminated + Partial) / Imported * 100
IVR. (Completed + Partial)/ Imported * 100
DIGI. (Completed + Started + Partial) / Triggered * 100
SMS. (Completed + Terminated + Partial) / Imported * 100
If you want to further narrow the search, try using the Filters bar on the left side of the Statistics page: