Tip: Use Ctrl+F and search for the name of the option you would like to learn more about


Overview
Note: "Survey Settings" tab is called "Advanced Settings" on "Global Settings" page
Advanced Settings for IVR channel allow customizing the invite settings and survey answering system behavior.
For survey inheritance behavior please see this article.
Channel Specific
Channel Specific options allow specifying the settings that are specific for IVR Channel.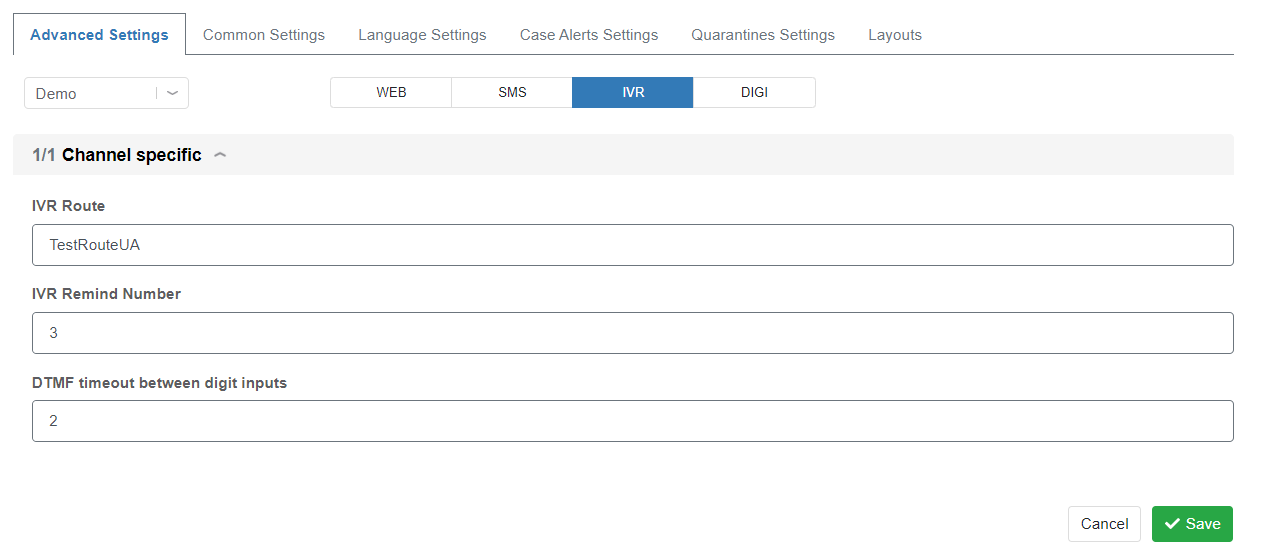 IVR Route
IVR route is a predefined technical setting that is supplied by SandSIV in the process of setting up the gateway for IVR channel.
IVR Remind Number represents the number a customer should be reminded (re-dialed) to complete a survey in case a phone call was left unanswered or a customer hung up the phone while the call was performed.
Currently, IVR Reminders are set to re-dial customers once a day. Following the example above, a customer will be reminded once a day for three days in a row.
To change the frequency of the reminders please contact our Support Team.
DTMF timeout between digit inputs
This setting defines in seconds the allowed gap between the entered digits while answering the survey. For instance, if set 2, after pressing "1" a customer will have 2 seconds for pressing "0" to complete "10" as an answer for a scalable question. If the set time expires prior to pressing "0" the survey will treat the answer as "1".